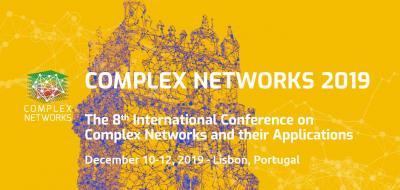 The International Conference on Complex Networks and their Applications aims at bringing together researchers from different scientific communities working on areas related to complex networks. Two types of contributions are welcome: theoretical developments arising from practical problems, and case studies where methodologies are applied. Both contributions are aimed at stimulating the interaction between theoreticians and practitioners.
Speakers
Tutorials: (TBU) December 09, 2019
Submission Guidelines
Two types of contributions are accepted:
Full papers about original research not simultaneously submitted to another journal or conference. Each submission must follow the Springer publication format available on the website of Studies in Computational Intelligence Series 

[9]

in the Authors and Editors instructions entry.
Extended Abstract about published or unpublished research. Recommended to be between 2-3 pages. They should not exceed 3 pages.
Templates are available on the submission [10] webpage. If in doubt, please  [11]contact the Submission Chair (christian.quadri@unimi.it [12])
All contributions should be submitted via EasyChair [13].
Publication
Papers will be included in the conference proceedings edited by Springer
Extended abstracts will be published in the Book of Abstracts (with ISBN)
Extended versions will be invited for publication in special issues of international journals:
Computational Social Networks

[14]

 edited by Springer
Applied Network Science

[15]

 edited by Springer
PLOS one

[16]

Network Science

[17]

 edited by Cambridge University Press
List of Topics
Topics include, but are not limited to:
Models of Complex Networks
Structural Network Properties and Analysis
Complex Networks and Epidemics
Community Structure in Networks
Community Discovery in Complex Networks
Motif Discovery in Complex Networks
Network Mining
Network embedding methods
Machine learning with graphs
Dynamics and Evolution Patterns of Complex Networks
Link Prediction
Multilayer Networks
Network Controllability
Synchronization in Networks
Visual Representation of Complex Networks
Large-scale Graph Analytics
Social Reputation, Influence, and Trust
Information Spreading in Social Media
Rumour and Viral Marketing in Social Networks
Recommendation Systems and Complex Networks
Financial and Economic Networks
Complex Networks and Mobility
Biological and Technological Networks
Mobile call Networks
Bioinformatics and Earth Sciences Applications
Resilience and Robustness of Complex Networks
Complex Networks for Physical Infrastructures
Complex Networks, Smart Cities and Smart Grids
Political networks
Supply chain networks
Complex networks and information systems
Complex networks and CPS/IoT
Graph signal processing
Cognitive Network Science
Network Medicine
Network Neuroscience
Quantifying success through network analysis
Temporal and spatial networks
Organizing committee
GENERAL CHAIRS
Hocine Cherifi (University of Burgundy, France)
José Fernando Mendes (University of Aveiro, Portugal)
Luis M. Rocha (Indiana University)
ADVISORY BOARD
Jon Crowcroft (University of Cambridge, UK)
Raissa D'Souza (UC Davis, USA)
Eugene Stanley (Boston University, USA)
Ben Y. Zhao (University of Chicago, USA)
PROGRAM CHAIRS
Sabrina Gaito (Università degli Studi di Milano, Italy)
Esteban Moro (Universidad Carlos III de Madrid [18], Spain)
PROGRAM CO-CHAIRS
Joana Gonçalves-Sá (Universidade Nova de Lisboa, Portugal)
Francisco Santos (University of Lisbon, Portugal)
SATELLITE CHAIRS
Luca Maria Aiello (Nokia-Bell Labs, UK)
Rosa . M Benito (Universidad Politecnica de Madrid [19])
LIGHTNING CHAIRS
Hui juan Wang (TU Delft, Netherlands)i
POSTER CHAIRS
Gitajanli Yadav (University of Cambridge, UK)
Jinhu Lü (Chines Ac. Science, Bejing, China