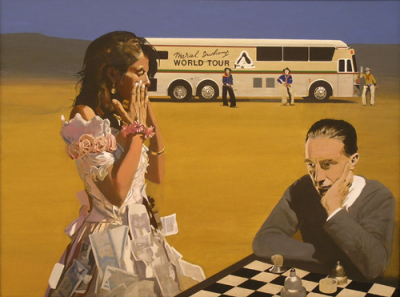 The Fourteenth International Conference on Game Theory and Management, a three day conference, will host presentations on a wide range of game-theoretic models, both theory and applications including management applications.
The topics
The topics include, but are not limited to the following list:
Game theory and management applications
Cooperative games and applications
Games with coalitional structure
Dynamic games and applications
Repeated games
Pursuit-Evasion games
Search, encounter and inspection games
Learning and adaptive games
Mechanism design
H-infinity control and robust controller design
Dynamic networks
Evolutionary games and applications
Stochastic games and applications
Market models
Networking games
Numerical methods and computer implementation of game models
Dynamic Bargaining
Voting and power indices
Auctions
Game theory applications in fields such as: strategic management, industrial organization, marketing, operations and supply chain management, public management, financial management, human resources, energy and resource management and others.
Organizing Committee
Leon Petrosyan (AM&CP, SPbSU) – co-chair
Nikolay Zenkevich (GSOM, SPbSU) – co-chair
Artem Sedakov (AM&CP, SPbSU) – conference manager
Margarita Gladkova (GSOM, SPbSU)
Maria Bulgakova (AM&CP, SPbSU)
Irina Marchenko (AM&CP, SPbSU)
Yaroslavna Pankratova (AM&CP, SPbSU)
Elena Parilina (AM&CP, SPbSU)
Anna Tur (AM&CP, SPbSU)
Anna Veselova (GSOM, SPbSU)
Andrey Zyatchin (GSOM, SPbSU)
International Scientific Committee
Eitan Altman (France)
Jesus Mario Bilbao (Spain)
Irinel Dragan (USA)
Hongway Gao (China)
Andrey Garnaev (Russia)
Sergiu Hart (Israel)
Steffen Jørgensen (Denmark)
Ehud Kalai (USA)
Andrea Di Liddo (Italy)
Vladimir Mazalov (Russia)
Shigeo Muto (Japan)
Leon Petrosyan (Russia) – co-chair
Richard Staelin (USA)
Krzysztof Szajowski (Poland)
Agnieszka Wiszniewska-Matyszkie (Poland)
Myrna Wooders (USA)
David W.K. Yeung (Hong-Kong)
Georges Zaccour (Canada)
Nikolay Zenkevich (Russia) – co-chair
Paul Zipkin (USA)
Publications
Abstracts' volume will be available to registered participants at the beginning of the conference. After the conference, the participants will have an opportunity to submit their papers for publication in a refereed special volume "Contributions on Game Theory and Management", vol. XIV.